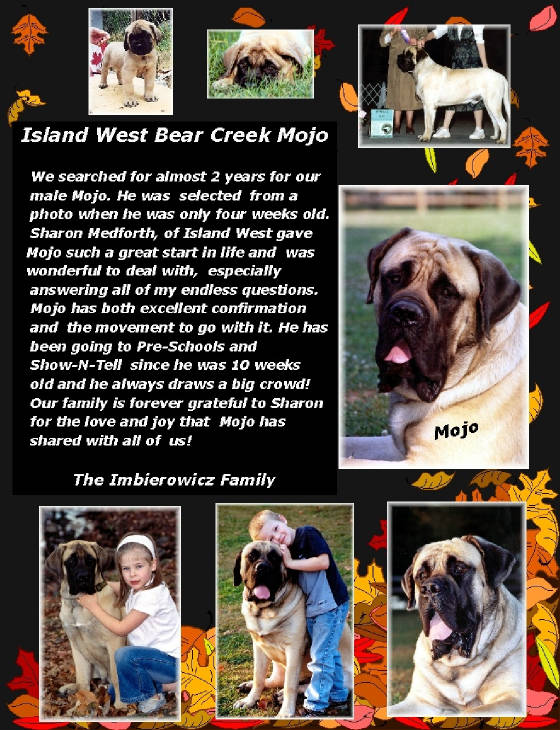 HERE IS A VERY NICE RECOMENDATION FOR YVONNE.
I purchased my beautiful Mastiff from Sharon. Mercedes is what i named her she finished her championship in just 1 year and she is a beautiful BIG girl. Mercedes has also won a group placement and Best in Sweepstakes at the Mastiff specialty in 2004. Also Mercedes is in the Mastiff Calendar in 2006 and Pet Prints is the company. Buying a puppy from Sharon was a great experience the puppies are top priority and treated great, they are hand raised in the families living room. All her babies are very unique in there own ways, they are wonderful temperament and a very gentle dog. Thank you Sharon for our wonderful big girl Mercedes, she is our families treasure Yvonne, Sharon, Kendra and Mercedes
ELLIE MAY WITH HER LITTLE GIRL ,
Angus
Here is a comment from Angus's new owner
He likes to greet everyone we meet, but is a little shy when loud trucks go by (we're working on that though).
He weighed 31lbs on Monday the 14th at the vet. She said he had an excellent temperament, and he liked meeting all the people there. Puppy school starts on Wednesday this week, so he'll meet lots of (vaccinated) dogs there.
We are very happy with his personality, and obviously his extreme handsomeness.
Caren and Mike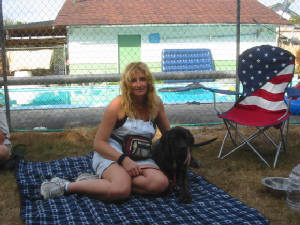 Christine told me Black Berry was her life , She said she has had other dogs but BB is the most special of all. Black Berry is now 2 years old and 220 pounds . He is very loving and a great ambassador for the breed . Black Berry was a" puppy star" and was features in the Sandlot 2 movie as a baby.