kara and Buck produced an outstanding litter , They produced many Champions . produced great movers with great rears, pictured below are their children CH West Coast Nala Int Can CH West Coast Skipper CG DD, DDX, MCOADD, TT CGC, CGN, TT,. Note the rear ends, and heads.
Nala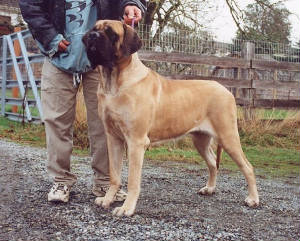 CH,West coast Naughty Lass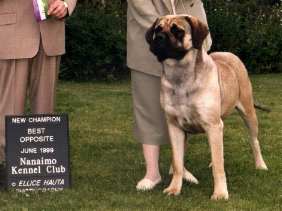 Can Int CH West Coasr Skipper CG, DD, DDV, MCOADD,
Skippy pictured above was one of the pups from this breeding , Skippy is probably the most titled mastiffs in Canada Skippy holds "9" titles, Int Can CH West Coast Skipper CD, TT, DD, DDX, MCOADD, CGC, CGN, Including a BEST PUPPY IN SHOW multiple GROUP placements and group one placement As well as being number 5 top mastiff in Canada
One of the pups from this litter of Buck and Karas was bred to a very large sweet mastiff owned by Blackstone Mastiffs named Louver . From this breeding our good rears and nice heads continued for another generation , Pictured below is Louver
Blackstones Lord Louver
Ch West Coast Naughty Lass and Blackstones Lord Louver, produced Beautiful Bella of IW.
Pictured below is Bella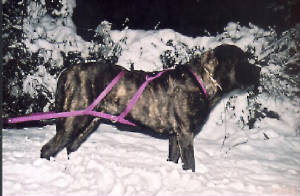 Beautiful Bella has very nice rear angulation , a nice moving frmale with a great head and good size , maturing to 180 pounds and 30 inches tall, Bella was bred to Ch Resolutes Ryde On pictured below Ryder is pictued at ONE YEAR old winning best bred by
Ch Resolutes Ryde on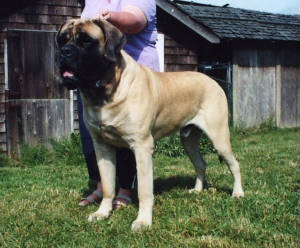 This picture is a poor stack , Violet has perfect rear angulation she is a very tall bitch, 32 inches and 176 pounds , She is 20 month in this picture and has a lot of filling out to do yet
Susie or Ch Karas Reflections of Island West winning Bw, Nanaimo 2005 to finish her championship , Susie is Violets littermate
Ch Island West Mercedes is also a litter mate to Susie and Violet above , pictured winning best puppy in group. Mercedes was sold to Yvonne Green a wonderful mastiff owner.