Welcome to Island West Mastiffs.
We are a top winning mastiff kennel located on Vancouver IsIand B.C.
British Columbia Canada
we live in Ladysmith BC Canada
Thank you for your interest in our mastiffs . This web site has a lot of useful information.
We are not expecting any mastiff litters in the next year , but please browse the site and enjoy the information and pictures of our wonderful pets
Buddha -Mountains son and Sharon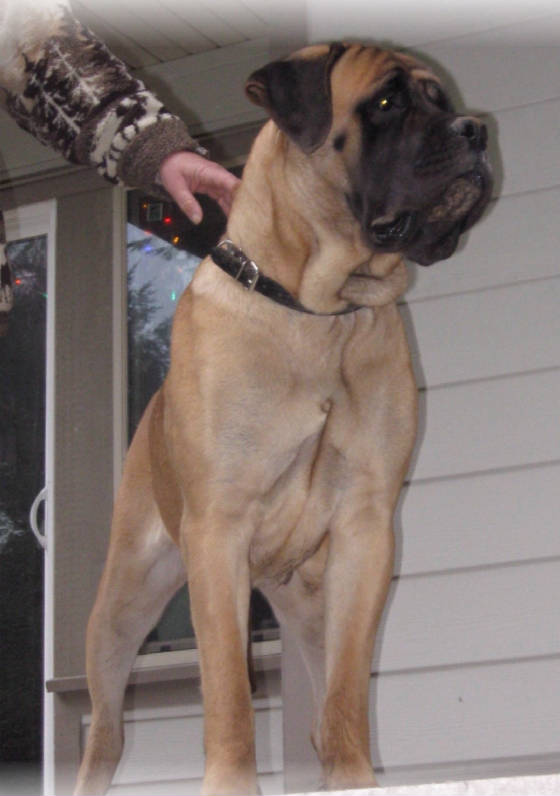 Mountain winning another title CD high in trial
Here we go again Mountain passed his CD this weekend with his second high in trial
NEWS FLASH AGAIN ,, MOUNTAIN IS NOW A DRAFT DOG, "GREAT WIN MOUNTAIN" YOU ROCK!
Welcome Relic our new Stud dog
NEWS FLASH
Mountain has added yet another title to his name . This incredible mastiff just won his Draft Dog title. He has also won a "high in trial award" towards his CD.
"Mountain now has 7 titles"
Mountains name with all his titles is
CH Dralions Mountain Of Island West CGC , RN, PCD. DD, "AIOC,PCD" "AIOC,RN"
Ellie wins here Ch
tyee kennel cluc may 2012
or phone 250-722-3911

Best time to call is after 5 pacific standard time

or any time on weekends

we live in Ladysmith BC Canada

Old English mastiff breeder . Mastiffs are the largest "heaviest" breed of dog. The mastiff puppy will be about 18 ,20 or more pounds at 8 weeks of age .

As puppies there are none cuter then the mastiff.

We stand behind our puppies with a contract guaranteeing your puppies health. If you get a pup from us you can be sure the pups are raised well, kept clean, and fed the best quality of food.

We spare no expense at insuring our pups get the best care .

I take great pride in saying my puppies are very well cared for.
Mountain 2 years group win
BUDDHA 11 MONTHS OLD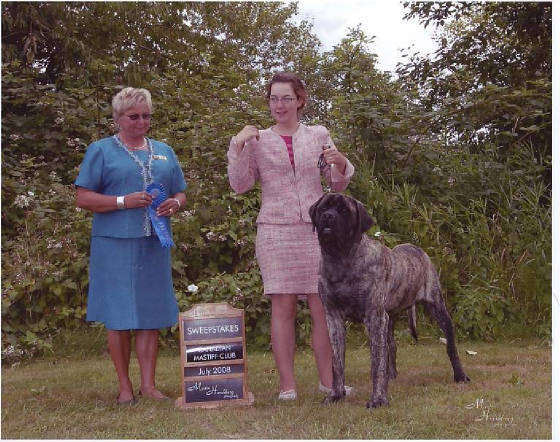 MOUNTAIN photo by Jerry Shulman
Pictured below is Mojo .. We bred Mojo who is out of our lovely, Beautiful Bell and resolutes Ryder . Mojo turned out to be a large handsome mastiff taking on his mothers sweet , friendly disposition and bulk his fathers good looks, height , and top line. Mojo did very well in the show ring. This is Mojo winning at Bucks 2007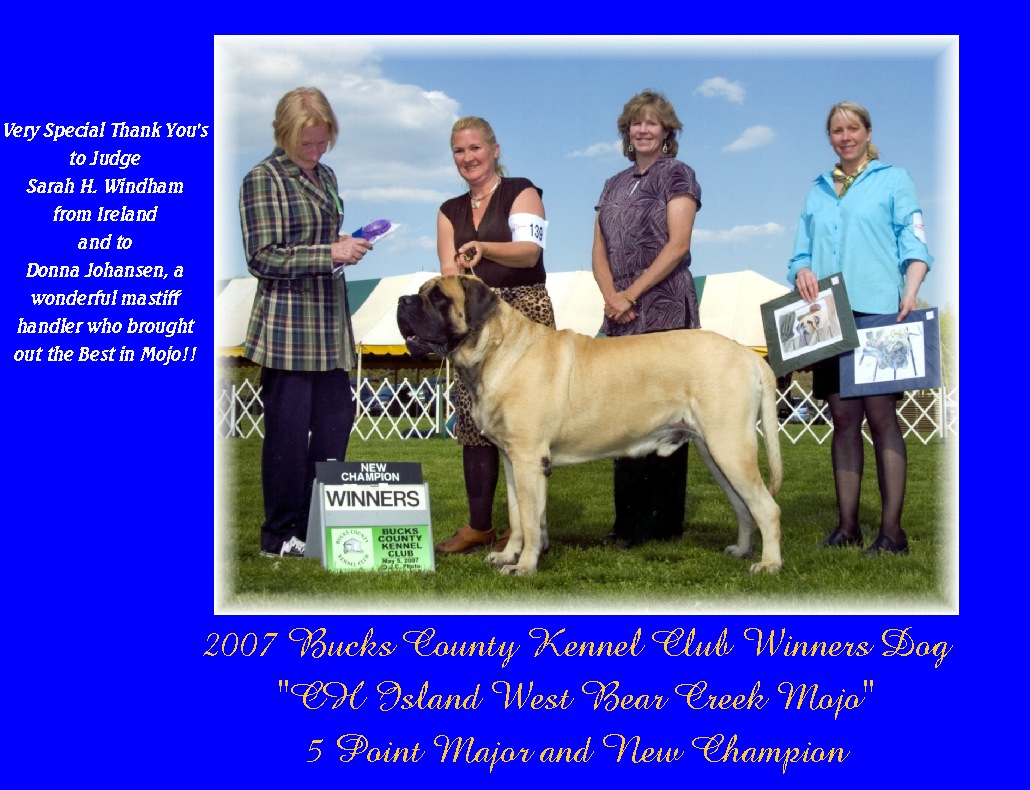 Congratulations to Donna , When we sold "Island West Bear Creek Mojo" to Donna I knew he was going to a good home , Donna gave mojo love and care and put a championship on this great handsome boy . We are very proud of Mojo and Donna.
Dolly and Mountain
Blackstones Katrina of Island West
Above , Here is our 6 month old lovely puppy Katrina shown by my daughter Melissa. We purchased Katrina from Deb Shook Of Blackstone mastiffs. Katrina took Best Puppy In Breed . We are expecting our lovely puppy Katrina do do very well in the show ring this summer.
Mountain was a sweet, loving father, always careful and curious about the babies, you would have though he was the mother.
Jackie our female is nearest to the camera
Skippy our male is hooked on the outside of cart
MOUNTAIN 12 MONTHS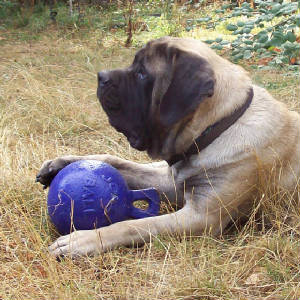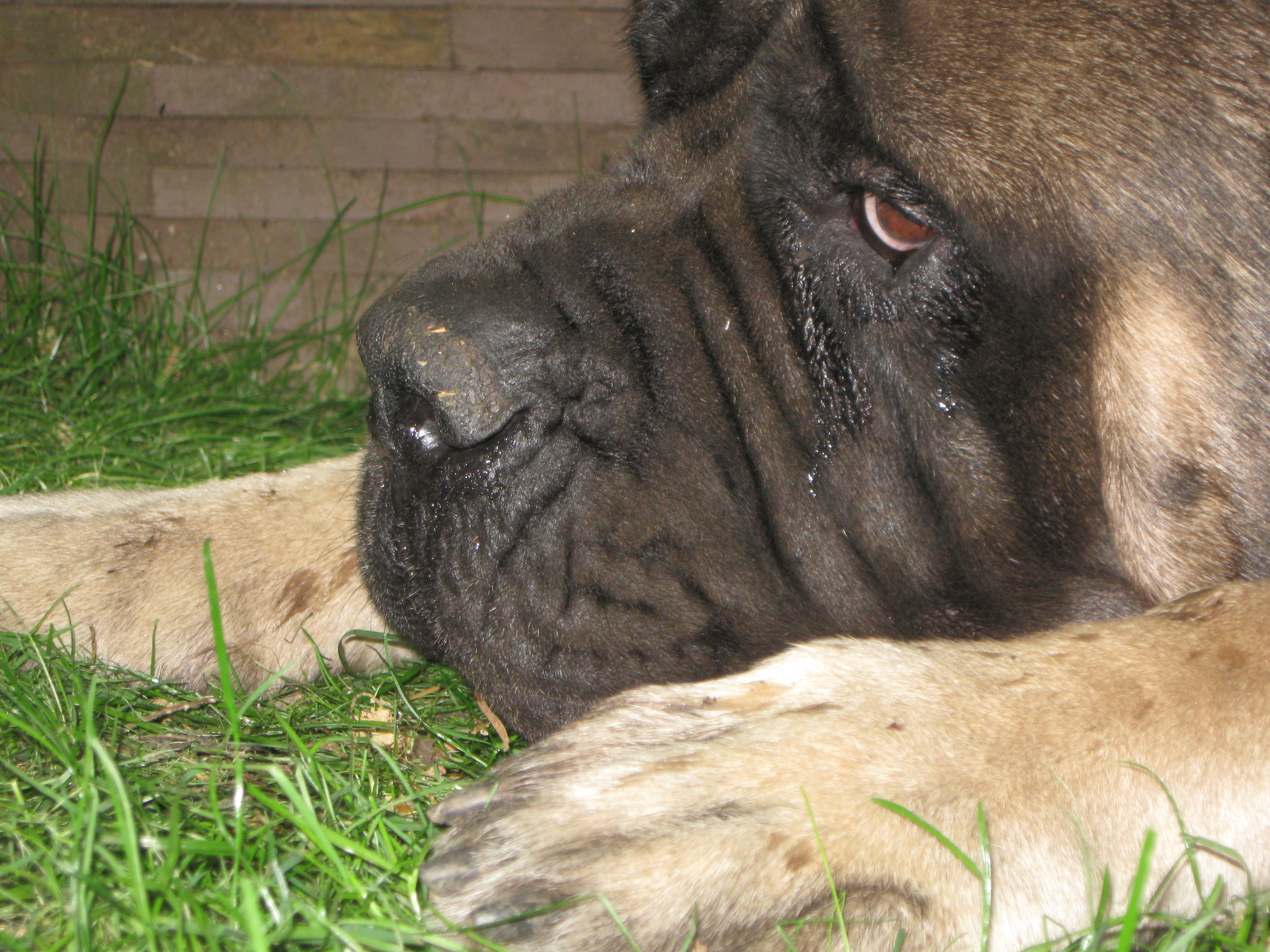 Below are pictures of pups from our last breeding , we are expecting new pups from Dolly and Mountain pictured above , Mountain is a very sound ,powerful male , lots of bone and very muscular, and a great head Mountain is only a young male and is prelim good on hips and elbows.
ALL PUPPIES HAVE GONE TO NEW HOMES , WATCH FOR FUTURE LITTERS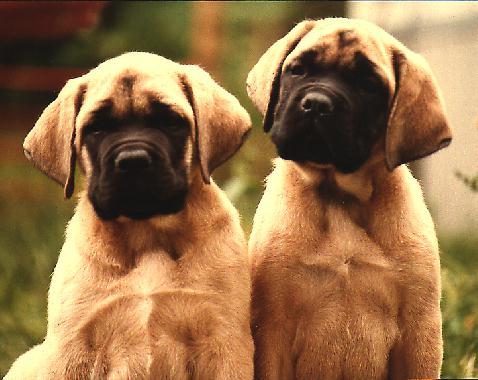 At Island West mastiffs you can expect healthy happy puppies ,raised in our home as part of the family, All pups come from health tested parents, and are vet checked, wormed and vaccinated before going to new homes, Yes, we will ship our pups to any major airport in North America
Our pups come with a health guarantee and all pups are checked by a vet and given a clean bill of health before going to new homes.

Pups are registered with CKC and eligible for AKC registration.

The parents of these pups are hip and elbows certified. .

Our pups are well socialized and raised in our living room until 5 weeks of age.

.

THE COST OF PUPS IS $2,000 NONBREEDING CONTRACT,

ANY MASTIFF $3,000 OPEN TO BREED

We believe we have bred some of the best mastiffs around and DEFINATLY some of the most famous mastiffs in the world. Our English mastiffs have been featured in the new Sandlot 2 movie.
As well as in in 8 different mastiff calendars around the world. And our mastiffs are featured in several published famous mastiff poems, Such as Steadfast and True, A Mastiff's heart, and Come on in a mastiff lives here, We have produced many show champions over the years.
Our mastiff boy Can Int, CH, West Coast Skipper CD, DD, DDX TT, "MCOA,DD"CGC, CGN, holds more titles then any other mastiff in Canada. These accomplishments speak volumes for the quality of the mastiffs produced by Island West Mastiffs.
But in all reality our mastiffs make the most wonderful family pets. We have produced many top show dogs over the years but most of our pups leave here to go to loving homes as pets. We get as much pride from hearing that our dogs are loved and cherished by a family as we do about our dogs winning in Canadian and American shows.

Our pups are bred with size , temperament , and health in mind . A mastiff puppy should first of all be a good family companion and also be a good example of the breed, with large bone and good structure. Our Mastiff pups are carefully bred from the top American and Canadian show and working lines .such as Resolute mastiffs, Greiner Hall mastiffs, Dralion mastiffs, Moonstone mastiffs. Groppetti, Iron Hills mastiffs, Pallone Mastiffs, Blackstone Mastiffs. Our puppies all come from health tested parents in order to produce pups with good sound hips, elbows, eyes and hearts.
We have bred National Mastiff Specialty winners including one of the most titled mastiffs of all times in Canada .
Pups from our breeding's have competed and won titles in obedience , confirmation and Draft dog competition, weight pull competitions, as well as temperament testing titles . We strive to produce pups with the true working mastiff and type in mind .
All of our mastiffs live in our home with us , non are kennel dogs, all are our family pets.
This restricts the number of pups we raise . All pups are raise in our living room and have lots of loving personal attention right from the first day of birth until they are found loving responsible homes.
Some of the famous dogs in our pedigrees are Ch. Groppetti's Lord Henry Of MMRB.
CH SEMPER FI GROPPETTI GARGOYLE Ch West Coast skipper TT, DDX, CGC, CGN, CD.
Ch Greiner Hall Jedadiah. Ch Arciniega's Sweet Willie.

EMAIL FOR MORE INFO ON THESE PUPS mastiff@shaw.ca

OR CANTACT SHARON MEDFORTH

2530 GREENWAY RD LADYSMITH BC CANADA V9G1E3

PHONE 250-722-3911